Anyone that knows me very well, knows that I LOVE Goodwill and thrift stores. For over ten years, I have been scouring Goodwills all over looking for good deals and rare finds. Some of my BEST memories involve my mom, my BFF Bambi, my Aunt Paula, and me driving all around the valley to find the best deals on Goodwill's half off day. We have it down to a science. We get there early, sometimes that means standing outside and fighting the crowds, just to get in the door. Then we split up and look for anything that we think the entire group would possibly want. Then we meet back up and show our finds. We also have what we call "the layaway program" at Goodwill. Or in other words, you go the night before and scope it out to find the best deals so your not wandering around aimlessly the next morning. For over ten years I have enjoyed the thrill of the hunt and everytime I pass a Goodwill I always check to see when the next half off day is. I think most people think that I'm a compulsive shopper when they see my closet or my home but what they don't realise is that about 65% of my closet has been bought second hand and most of it for under $5.
Over the long holiday weekend, since I was sick I spent more time on the couch than I would have liked. And while I was laying there, I kept thinking of ways I could improve the room, or things that I could add to it. It just so happens that Saturday was Goodwill HALF OFF DAY, so you can guess where we went. We actually went to 5 thrift stores that day I think, I lost track because I was sooo excited about what we were finding. After some rearranging, some additions and some elbow grease, the family room is now transformed. I didn't take before pictures but if you've been to my home, maybe you can notice the few changes we made. My next project is the front living room.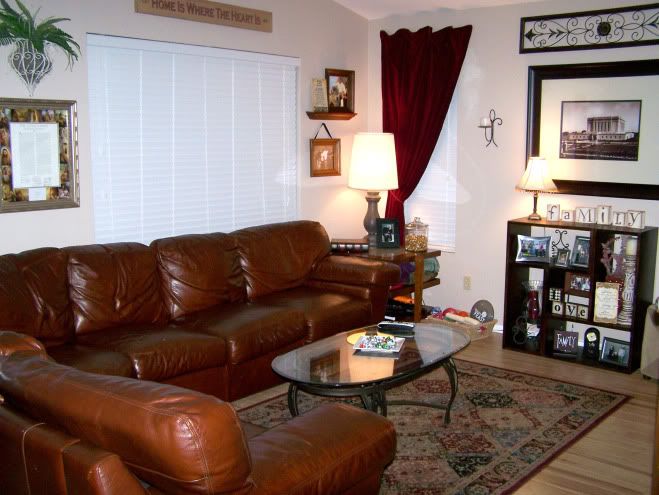 Additions: The curtains (which I stole from my living room), The end table ($15 at thrift store, we just refinished it with a little stain), The large lamp & shade ($5 at Goodwill, SCORE), Jar for popcorn ($2 at Goodwill) picture frames above lamp ($2 a piece at Goodwill, we just refinished them), Shelf (Stole from living room), small lamp (stole from spare bedroom), picture frame and hanging plant (stole from hallway), bookshelf (stole from spare bedroom), family blocks (made them :D), square ottoman (stole from our bedroom), and not pictured is a dvd tower that we got at Goodwill for $10 to hold the wii games.
I know I could go out and purchase these items new but there is just something satisfying about reusing something old and bringing it back to life. I think its important that we reuse and recycle and that we teach our children those principles.