Tuesday October 5th we have been married
THREE WONDERFUL YEARS!
For the past week and a half I have had a horrible, stuffy, achy, sneezy, couldn't get out of bed HEAD COLD. We really REALLY wanted to go somewhere for our anniversary but it just didn't seem like that was going to happen since I couldn't kick my cold. After taking TONS of sudafed and advil around the clock, I actually felt pretty good on Friday night. So when we got a call from our friends Eric and Tory inviting us on a LAST MINUTE SPUR OF THE MOMENT trip to San Francisco, we said WHY NOT? Saturday morning we woke up at the butt crack of dawn and hopped on a flight to San Fran. We met up with them at the airport and by 10am we were all enjoying a nice hot breakfast at our hotel there. We jetted out to see the city and BOY DID WE EVER. We cruised around ALL DAY and did LOTS of sightseeing. Let me just say that we DID San Francisco in a day and didn't leave anything out. Sunday we took a drive along the PCH and saw the BEAUTIFUL coast line.. I could have just sat there for hours listening to the waves crashing. Sunday afternoon our friends Jeff and Laura came over for a few hours, making the weekend complete. Sunday evening we hopped a flight (first class, thanks Eric) back home, exhausted from our whirlwind weekend but SOOO glad we went. My head cold is now back in full swing, so its back to bed for me, but well worth it. I want to say
HAPPY ANNIVERSARY TO MY WONDERFUL HUBBY
, thanks for all that you do for me and the boys.. WE LOVE YOU! And another BIG THANK YOU to Eric and Tory for the spur of the moment invite.. it's always a blast to hang with you! You know your true friends when you can share a hotel room. ha ha
___________________________________________________________________________________________
Our first stop in the city was the famous LOMBARD STREET which is the crookedest street in the world. It makes 8 sharp turns and is surrounded by beautiful homes. It's definately a crazy street, I can't image living on it. It was so fun to drive down that we did it TWICE!



You can see the winding road behind us.. it is decorated by gorgeous flowers and bushes.



You can't visit SAN FRANCISCO without going to the GOLDEN GATE BRIDGE. On Saturday it was very foggy so you couldn't see most of the bridge.



Next stop was Baker Beach which has an amazing view of the Golden Gate Bridge and the Bay.



Of course next on the list was FISHERMANS WARF and PIER 39. We walked the pier, went to the OLD arcade place, and watched the boats sailing around Alcatraz.


Up next was what we referred to as the FULL HOUSE HOUSES.. really they are called the PAINTED LADIES. They are beautiful Victorian homes built between 1892 and 1896 and are located across the street from Alamo Square Park. We all had our own favorites.. personally I liked the yellow one the best.

After cruising around all day we were famished, so we headed to CHINATOWN for dinner. We ate at HOUSE OF NANKING. It's super yummy so if your ever in SF, I suggest you go there.


I think my FAVORITE place we visited was the SAN FRANCISCO PALACE OF FINE ARTS... it was SO BEAUTIFUL. I had seen it in movies such as "So I married an axe murderer" and "The Batchelor" and always wanted to go there. It was under construction so we couldn't walk through the dome but the grounds were GORGEOUS!!!!!
We drove up to the Coit Tower which is located in Pioneer Park.
No SF trip is complete without some GHIRARDELLI CHOCOLATE. You can see Bailey enjoying her hot chocolate since it was COLD outside.
On Sunday's drive we saw the GORGEOUS coast between San Fran and Santa Cruz. Love love love it!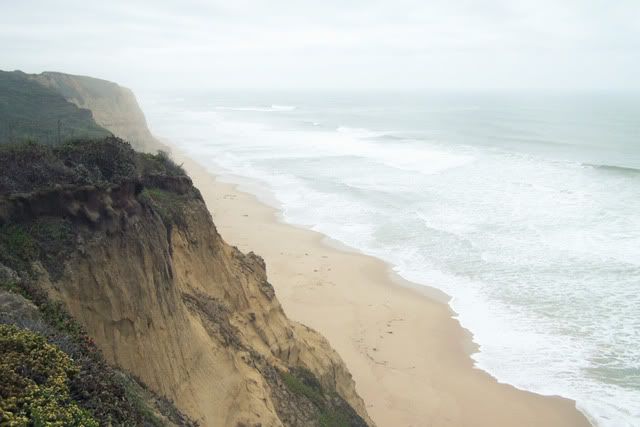 There is an old lighthouse along the coast called Pigeons Point which also actually has a Hostel that you can stay at. It's about 20 miles north of Santa Cruz on a beautiful part of the coast. I just might have to go back and stay!


On Sunday we went back to Baker Beach with Jeff and Laura to get a better picture of the Golden Gate since the fog wasn't so heavy that day. The wind was CHILLY and the waves were HUGE crashing on the shore.